Access Project Phase 2 – Dedication of Facilities November 2021
Access Project Phase 2 – Completion Report November 2021
Access Project Update – August 2021
Access Project Update –  March 2021
Our Vision
Our vision for this project is to make our church building at Dyke and its hall welcoming and hospitable, with user-friendly access and improved modern facilities. It is not just about wheelchair access although it is important that the premises are disability compliant. We need to make it a place that everyone is happy to use, young and old, including those with issues of sight, hearing, dementia and mobility.
The Footpath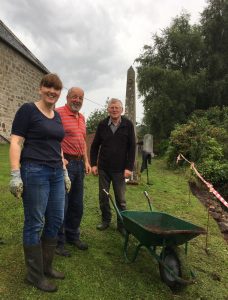 Phase 1 focused on providing disability compliant access from the village hall car park to the front door of the church. A new footpath has been constructed, the old churchyard wall rebuilt, fencing erected and lighting installed. On Sunday 19th November 2017, the Dyke Church community celebrated the completion of Phase 1, a symbolic linking of the community and the church.
The Church Hall
Phase 2 (completed November 2021) focused on the provision of disability compliant toilet facilities. This required the underpinning of the kitchen extension, the conversion of it into two toilets, provision of baby changing facilities, bringing the fire escape up to standard, making the door to the sanctuary soundproof and creating wheelchair spaces in the worship area. The heating, lighting, ventilation, insulating and decorating of the toilet and corridor area was also part of the work. This achieved some important improvements and repairs, including providing a disabled toilet accessible from the sanctuary.
The hall has been redecorated and portable ramps acquired to give disabled access into the hall through the exterior door.
Phase 3 will be the full refurbishment of the church hall. Details are shown on the plan (PDF).
Fundraising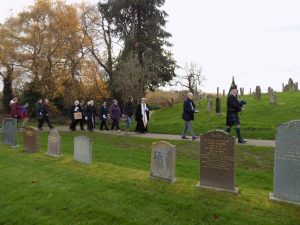 We are most grateful to all who have contributed. There has been superb support from the local community for which we say a huge 'thank you'.
We are pleased to record our thanks to the following organisations who have provided funding: Moray Presbytery, The Baird Trust, Berry Burn Community Fund, Scotland's Churches Trust, The Ferguson Bequest Fund, Allchurches Trust Ltd., The Garfield Weston Foundation, FCC Communities Foundation, The Beatrice Laing Trust and another Trust which wishes to remain anonymous.
Donations
If you would like to make a donation please contact the Church Session Clerk, Mrs Jane Foster: jwaf2212@hotmail.co.uk